ProtectorGlaze Peelable Glass Protection 20Lt
Product code: 10066222
Leaves no residue when removed
Quick & easy protection solution to use
Applied using a roller
UV stable
Non-flammable
Non-hazardous
Film can be easily disposed
ProtectorGlaze
ProtectorGlaze Peelable Glass Protection is designed to provide temporary protection to a number of non-porous surfaces including glass, frames, glazed roofing, ppc aluminium, and solar panels during the construction process.
A quick and easy protection solution to use, the coating is simply applied using a roller, and when dry provides a clear film that allows diffused light into the building. At the end of the project the film is simply peeled away by hand to leave a clean surface. The used film can be easily disposed of due to its low volume nature – 1sq.m of dry film creates just a 60mm diameter ball of waste.
• Protects surfaces from damage caused by abrasion, staining, spillage and scratching
• Cost-effective solution to reducing unnecessary and expensive on-site replacements and repairs
• The UV stable coating dries to form a tough film that will protect surfaces for up to 6 months externally and 12 months internally
• Leaves no residue when removed, therefore reduces time for final clean
• Non-hazardous – water resistant when dry, and water cleanable when wet
• Non-flammable – resistant to hot works grinder 'flecks' and welding splatter, associated with curtain walling fabrication and installation
• No cutting or shaping required as with rolled film, therefore creates no off-cut waste
• Surface can remain dusty when product is applied, unlike adhesive films which require surface to be clean
• Does not fall or peel off, therefore no need for re-applying on site
Attributes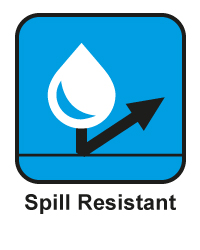 Product attributes
| | |
| --- | --- |
| Capacity | 20ltr |
| Dimensions | 20ltr |
| Product Range | External Protection |
| Spill Resistant | Yes |
Reviews
Please log in to leave a Review.
please wait